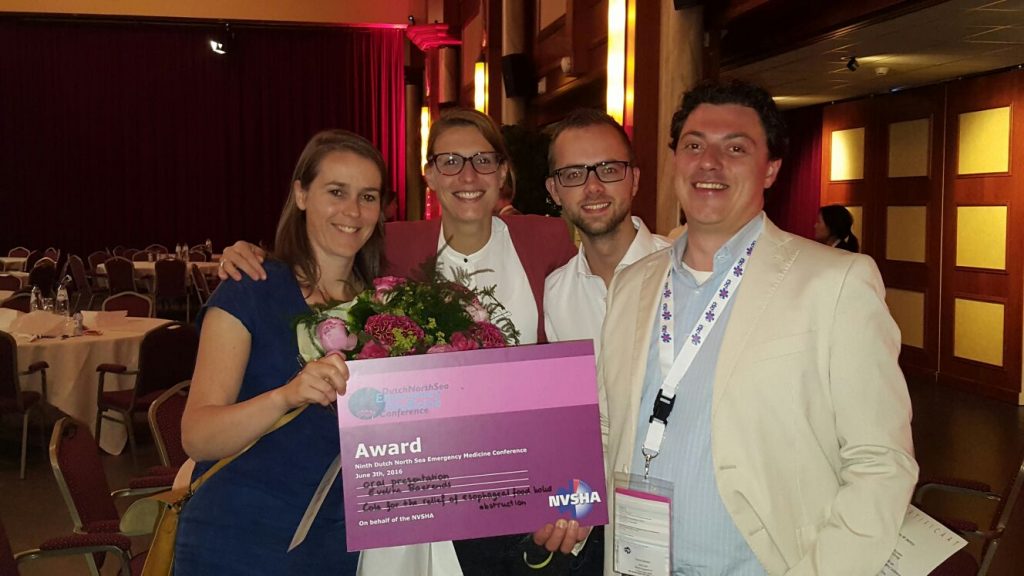 Tijdens de negende editie van het 'Dutch North Sea Emergency Medicine Conference' van de NVSHA in Egmond aan Zee heeft Eveline Baerends de prijs voor beste wetenschappelijke abstract en presentatie gewonnen. Zij presenteerde het abstract 'Cola for the relief of esophageal food bolus obstruction' door E. Baerends (AIOS SEG), T. Boeije (SEH-arts) en N. Mullaart-Jansen (SEH-arts).
Deze prijs wordt 1x per jaar toegekend door de Nederlandse Vereniging van Spoedeisende Hulp Artsen (NVSHA). Het bijzondere is dat Eveline Baerends deze prijs voor het 2e jaar achtereen heeft gewonnen !!
Het abstract beschrijft een retrospectieve analyse van de behandeling met cola bij patiënten die de Spoedeisende Hulp bezoeken in verband met passageklachten door vastzittend voedsel in de slokdarm.
Het onderzoek maakt deel uit van de onderzoeksprojecten opgestart binnen het RESPECT EM! samenwerkingsproject dat in 2015 is opgezet door de Vakgroep Spoedeisende Geneeskunde van het Westfriesgasthuis. Zie de projectwebsite voor meer informatie over dit project: www.respectem.com.
(van links naar rechts de arts-assistenten in opleiding tot SEH-arts: Baerends, Klijn, Douma & Baden)